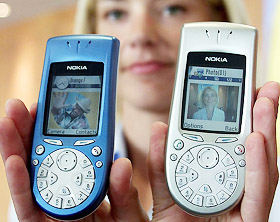 Just published was Infoworld's review of the Nokia 3650 where they pretty much WENT NUTS over the phone. Not much new if you've been reading this blog for any time, but it's nice a little confirmation of my enthusiasm. ;-)
We pored over the 3650�s technical documentation for weeks before we received the phone, which is a prototype distributed to developers. The more we read, the more we thought, �This isn�t a phone.� Quite right; voice calls are almost tangential to its design, although with a speakerphone, voice dialing, and a backlit keypad, it does voice as well as any mobile phone we�ve used. The 3650 is clearly a networked pocket computer, a portable mesh node, a reference platform for developers. This device, and the ones that will branch out from its design, are also remarkable business machines.

The 3650�s networking capabilities are astounding. Just spelling out the acronyms of the protocols and standards it implements would fill the rest of this space. The phone is designed to move voice, text, audio, photos, video, and arbitrary data anywhere. The phone supplied for review was activated on T-Mobile�s network, the same carrier used for our Research in Motion BlackBerry 5810 review unit (see " Shirt-pocket Java "). The devices use the cellular network in a very similar way. In areas that provide only voice service, the units work as basic cellular phones, and they can send and receive SMS (short message service) messages. In a GPRS (General Packet Radio Service) service area, the devices can browse the Web and access e-mail through T-Mobile�s gateways.

...

We had only enough time to scratch the surface of Nokia�s Series 60 operating environment and programming interfaces. For this phone, custom development is where the action is. The built-in PIM applications are quite good for a phone and make the best possible use of the 176-by-208 color display. But Nokia has exposed and documented the phone�s networking and graphical features to developers in great detail, and developers can grab the tools and documentation online. The efficient Java run-time encourages the kind of small-scale casual and in-house development that leads to innovation, while the C++ tools hit the performance targets required by commercial software.

Looking at the preview of the 3650 and Nokia�s rapidly evolving tools and documentation, it�s impossible to rank Nokia�s approach against chief mobile platform rivals RIM, Palm, and Microsoft. It is clear that Nokia has the engineering skill to squeeze an incredible set of capabilities into a small device, and that Nokia is committed to supplying developers with the tools they need to target the Series 60 platform. If the broader U.S. consumer market doesn�t snatch up this phone (or one like it in a more businesslike form factor), businesses certainly will.
Additionally, CNet just published a review of the SonyEricsson P800 which goes over the basics:
From its specifications, the P800 is obviously intended more for the gadget hound than the mainstream consumer. The device bears a formidable arsenal comprising Bluetooth, triple-band (GSM 800/900/1900) technology, a 4,096-color display, and a 300,000-pixel camera. It also runs on Symbian 7.0, which appears to be competent as a PDA/phone OS. Programs are generally fast and responsive, but the user interface can be a little quirky. When you open the keypad flip, you are greeted by a mind-boggling list of 22 icons. Thankfully, you can customize this interface by using shortcuts and folders.

...

Currently, the all-important PC Suite software for desktop synchronization supports only Windows 2000, Me, and XP; if you're using Windows 98, you're out of luck. Sony Ericsson is working on a remedy for this problem, but there's no timeline for this yet, said the representative. Also, it's unclear whether the P800 will support Mac connectivity through OS X and iSync, which currently supports connectivity with Sony Ericsson's Bluetooth-equipped T68i.
If you read the P800 review, be sure to check out the section of viewer comments where you get some of the real dirt.
The interesting contrast between the two articles is how CNet rightly pointed out some of the issues with synching the P800 with your PC. Probably because it's being marketed as a connected PDA instead of just a phone - even though it's essentially the same size and weight as the Nokia 7650. Nokia, however, is marketing their wares as smartphones only, and thus encouraging reviewers to skip over their pitiful synching software I guess.
But the Infoworld article is right on target, these devices aren't phones, they're kick-ass little connected computers in your pocket.
-Rurss