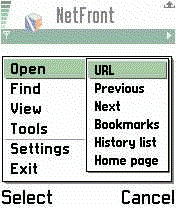 From All About Symbian (of course):
Access have announced the availability of a trial version of a new web browser for Series 60. The version to download is a time limited beta. Features include: 'Just-Fit' Rendering for small screens, comprehensive markup language support, JavaScript and CSS,Bookmarks, history, Cache, Cookies and SSL.

The browser is well known on other platforms. Now it is available on the Pocket PC platform. Pricing and final release date have not yet been settled.

Feature List:
* HTML4.01, XHTML1.0, cHTML (Compact HTML), XHTML Basic 1.0
* CSS (Cascading Style Sheet) 1, 2
* ECMA Script 3rd Edition (JavaScript 1.5)
* DOM (Document Object Model) 1, 2
* Various image formats: GIF/animated GIF, PNG, JPEG, BMP
* HTTP 1.0/1.1
* SSL2.0/3.0, TLS1.0

I just downloaded it and installed it and it works PERFECTLY. I was already connected to my PC via Bluetooth, and it found that connection instantly and used it (as opposed to having to choose it manually. The screens come up pretty fast and they look REALLY good! The app has a spinning world logo just like any other browser, so you can see as the page downloads and when they come down, they're formatted for the small screen. This is something that Opera said couldn't be done within the memory restrictions of the 7650, so this is quite the trick if you ask me. The whole app was only about 650k. Look at those features above and that boggles the brain. I can't wait for the real version to come out!
I actually saw this last night and was all excited but couldn't get to the download page until just now after I saw Rafe's post. I sent him an email heads-up about it this morning - there's so much Series 60 news coming out of Cannes right now it's easy to miss some cool stuff.
The funny thing about the app is that it actually tries to interpret CSS, so this site looks very funny because the page margins you see are actually duplicated on my phone... which leaves just about enough room for 2 words per line. ;-) I'll have to work on "mobilizing" my design a bit. You can check out this page to see what a page that's been shrunk using Just Fit Rendering looks like. Very neato.
-Russ