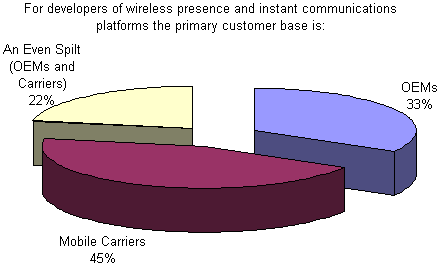 There's over 30 different companies targeting IMP applications right now ("Instant Messaging + Presence"), so if you're thinking about developing one of these solutions, forget it.
Here's an Unstrung article on IMP where they claim that IMP could mean Instant Money Plan, since IMP services could be a blockbuster application:
Instant messaging could turn out to be the next big thing in wireless technology � a market worth billions of dollars annually. It will also be quite a battlefield in the short term, because with 30-plus players already targeting this market, a shakeout is inevitable.

So says the report "Instant Revenue: Deploying Instant Messaging and Presence Platforms," the latest from Unstrung's subscription research service, Wireless Oracle.

It must be said that the term "instant messaging and presence" (IMP) doesn�t really do justice to either the scope or the potential of this technology, which could repeat (and eclipse) the wild success of SMS. IMP is effectively SMS on steroids; it makes text messaging interactive, which could be a really BIG deal...

Right now, nobody really knows how big the market might be. Service revenues could be worth anywhere from $2 billion to $14 billion by 2005, according to a survey of industry insiders included in the Wireless Oracle report.
Every little company in the world seems to have an IM solution either out or coming soon, plus the big guys (AOL, Yahoo, MSN) are getting into the action as well. In the past week we've seen news that Yahoo is working with Cingular, AOL has a bunch of partners for ICQ and Microsoft is launching Pocket MSN. In addition to smaller companies like OZ are making deals with the manufacturers like Nokia and Jabber making mobile deals as well.
In other words, forget IMP. It's being done.
-Russ