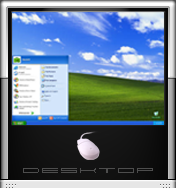 I got an email from the Trent over at mtvoid.com, the makers of ControlFreak for Series 60 and they gave me a heads up that 2.0 was ready to go. I saw this a week or so back, but hadn't gotten around to playing with it yet. I just used the one-click install for the WinAmp plugin and sent the .sis file over to the phone and it looks and works just as nicely as it did when I first played with it earlier this year. It did take me a minute or two to find the plug-in to WinAmp and then find the right Bluetooth port to connect to (no instructions for WinXP's SP2 Bluetooth support), but once it was working, it was pretty cool. Controlling the mouse and desktop is probably pretty useless, but definitely fun to play with at first. Actually, I take that back you never know... maybe I'll be giving a presentation sometime and being able to remotely click will come in *very* handy.
The other update which, I have to admit I'm even more excited about, is Lonely Cat Games' ProfiMail for Series 60. I had to go hunting for it, but the 1.2 release has fixed my main beef with the app which was lack of T9 support. They've added support for T9 dictionary and phone-native text entry and it now is the *perfect* email client for Series 60 phones. I mean, it's really, really good - it essentially turns your Nokia smart phone into a Blackberry. Awesome.
These two companies are really quite the contrast, no? Mtvoid has essentially taken the functionality of Bewildered and VNC, cleaned them up and are marketing them in a good-looking package with a compelling website. (Not to take away from them at all, but it's not like I don't know there's free options out there). Lonely Cat Games is the exact opposite and a real anomoly. Crappy web site, no marketing, yet they've produced three of the coolest apps for Series 60 phones: ProfiMail, Smart Movie and UltraMP3. Tons of functionality, yet none are as good looking as ControlFreak. These guys could learn a lot from looking at the other, it seems!
-Russ