I've gotten this request a few times lately, so it's time to write it up here, no? With my 3650 I was pretty experimental - I loaded up just about everything I found and kept a lot of stuff that may not have done me a whole hell of a lot of good. With my 6600, however, I've been much more reserved. For one, I don't have as much money to spend right now on mobile apps, so some things I'd like to have I need to wait for. And secondly, not every app that ran on the 3650 runs perfectly on the 6600.
Let me say that again for those of you skimming. Nokia 3650 applications may not run correctly on the 6600.
I'd say it's actually a pretty high number of failures actually. 1 out of 4 apps maybe? Including both Java and native apps maybe 50% - the upgrade to Symbian 7.0s and MIDP 2.0 definitely caused some breakage. For example, I just tried the new 3GPP Philips Camcorder app that was *just* released and it dies horrible deaths on the 6600 (which is a shame) and almost all the Java apps for my 7650 don't work either. You've been warned.
Okay, with that, I'll list the apps I've got installed and use regularly:
Opera - this comes with the 6600 in Western Europe and the U.S. and it's definitely a requirement if you don't get it. I can't figure out why Nokia didn't just make Opera the default browser instead of messing around with the "Services" WAP2 browser as well. It supports HTML, XHTML, WAP and more and on the 6600 is really a great experience to browse the web: fast, convenient, easy.
FExplore: Even though the 6600 comes with 2 almost identical apps for finding files (Gallery and File Mgr.), neither of these apps will allow you to get to the System files or other local directories considered out of bounds. This freeware app will allow you to get to all the files on your phone, as well as provide other functionality like "restart" and displaying your phone's IMEI number in case you can't remember how to get to it from the keypad.
Forward: This app has two very important functions. It'll allow you to foward on *any* message that's in your Message inbox. That's very cool. And it'll also allow you to save attachments and other files in your inbox as files, which is also handy for a variety of reasons.
Wireless IRC: The best app on the Series 60, this is a chat app which will allow you to join group chats on IRC servers. It's a shame it's limited to IRC since it's hands-down the best UI for mobile chatting I've ever seen, but if you do spend time on IRC (like we do on irc.freenode.net/#mobitopia) then you'll love this app.
Agile Messenger: This is another freeware app which will allow you to communicate to the main Instant Messaging services Yahoo, AIM, MSN and ICQ. It's very good and the newest version cuts out the middleman-server.
SlovoEd Spanish/English: I grabbed this months and months ago while I was in Spain and I still use it frequently. If you live or are going to visit a foreign country (or know someone who's native language may not be English) this is really great to have. I had a dictionary on my Palm, and with the phone's T9 dictionary helping, it's actually faster to look up a word on my phone.
ReadM: This is a text reader (and basic MP3 player). It's *great* and free. I've gone out and downloaded a bunch of text files of eBooks which I store on my MMC to have around in case I need something to read in a pinch. It allows you to mark up the text, have book marks, turn the screen 90 degrees for easier reading, doesn't timeout the backlight and other features. Definitely a well done app which makes reading on your phone quite comfortable. Again, I used to read eBooks on my Palm Vx and the higher resolution of the Series 60 phones make it actually much more comfortable even thoough the screen may be smaller.
AvantGo: I have to admit I don't use this app much, but it definitely works a hell of a lot better on the 6600 with its added RAM memory and storage. If you liked AvantGo on your Palm, you'll love it on the phone as well.
ScreenTaker: This is the app to have around if you want to take screen shots of the apps you have your phone. I'm hoping the author comes out with a new version as the move to the 6600 made the images it saves more blurry. But still, it's pretty great. Whenever I discover a new app, I immediately take shots to show the world. Like I did with the next app:
PuTTY: This is a *great, great, great* app to have on a connected computing device like the 6600. It's really the final piece missing to make the phone a "real" computing device. It's definitely not for newbies, but anyone who has a web server to maintain or is techie enough to want to log in remotely to their email via SSH, this app is a must have.
vsHttpd: This app is more fun to have than actually useful. It's a Very Small Web Server which you can run on your phone. If you're attached to the internet via GPRS and your carrier doesn't have you firewalled off (like most American carriers like AT&T) it'll allow you to serve files from your phone to any web browser. Pretty cool huh? It's also a hackish way to get at local files from Java, since if you start up the vsHttpd app and there's no connection, it'll just start serving files from 128.0.0.1 (localhost).
Switcher: This is a great free utility for Symbian devices from a German company called Knowledge Intelligence AG. It's like a "lite" version of AppMan that I had trialed a while ago, but have since forgotten about. It'll allow you to see apps and processes currently running, and allow you to wack errant programs if need be. It's like a Ctl-Alt-Delete for your phone. Nice!
GoBoy: This is amazing original Gameboy Color emulator. It works especially well on the N-Gage and the 6600 which have more RAM than the earlier Series 60 devices. You'll need game ROMs which can be difficult to track down even on P2P networks, but if are lucky enough to get Tetris or Mario, you can play the original GBC games with sound perfectly on your phone.
EMame: This is recent app which will take original game ROMs from old Video Machines and emulate them on the phone. I haven't actually found any ROMs which I really want to play, and the interface is a bit clunky, but it's neat to have. And it's free...
Interstellar Flames: This is one of the oldest games I bought. It's based on a 3D graphics engine and looks great to show off to to people who want to see the functionality to play. Unfortunately it sucks as an actual game... ;-) But it never required a registration code, so I've moved it from phone to phone just to have.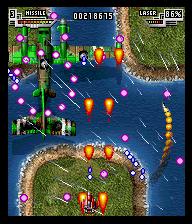 Infinite Dreams: Sky Force: (Note: This app has replaced my original review of Siberian Strike which didn't actually work on the 6600). Sky Force is a relatively new shooter game with a great look and control. It's a native S60 app and the trial works perfectly on the 6600. It's got great action and really good music/sound effects. Probably one to have on your phone even in trial form to show off. It costs $9.99 from Handango.
Â
Magic Gaming System Karting: Karting is just one of the games that plug into the MGS. I haven't bothered to try to get new serial numbers for my new phone, so I have it installed just in demo mode which is fun enough, but all the games (once you pay for them) allow users to play together via Bluetooth.
Card Deck: I have this installed because it's free online from Nokia, but I have *no* idea how to play any of the solitaire games that come with it. The online help isn't much help either. If you have a clue, comments welcome, because the app looks good, if I only I could figure out the rules.
Space Impact: Another freebie from Nokia. Not a particularly compelling game, but it's cool to demonstrate Bluetooth gaming with another S60 device. I keep a copy of the .SIS file hanging around on my MMC to send to others at a moments notice.
Frozen Bubble: Updated 6/30/2004. I just found this open source bubble-pop clone and it's great! Great graphics, fun sound, and it starts fast for a quick game. Best part is that it's free and OPEN so if you're a programmer you can check out what's going on under the hood. Very Cool.
Also, while I'm on the topic, I should talk about how I organize my phone as well. I set it up so that at the main screen, the left button is the Messages and the right is the Camera. This actually may be the default, but I can't remember. :-) Then in the Grid menu, I move those icons as well as the Contacts into the "Extras". I don't like or need more than one way to get to a feature. Contacts is accessed from the main screen by pressing in the joystick, which is why I don't need that as well. Then I move the icons I use regularly up to the "first page" which can hold 9 icons. These are (from top left to bottom right): Log, Calendar, Gallery, Recorder, Services, Opera, Bluetooth, Profiles, Video Recorder. They actually could be organized a bit better, but I've had some of them in the same position for so long now that I've developmed muscle memory. I'll have to think about that in the next week as I'm using the phone and pay attention to how many clicks I need.
Below the first 9 icons, I have the folders. I add 2 new folders called "Apps" and "Games" which I use to organize the apps I install. I'm sure you can figure out what goes where. I also have another folder called "N-Gage", but I won't talk about that. :-)
The last thing I want to say is don't ignore the apps that come with the phone. I use the included converter quite a bit from everything like converting meters to feet to figuring out how many cups in a gallon and euros to the dollar. The Calculator is also a great apps (much better than it's Windows equivalent, actually...) and the Recorder is *fantastic* on the road as a way of remembering things to do. Just create a new voice note and it's put in the Gallery along with your pictures and video. Very well done, actually. I think you can even use the sound clips as ringtones, actually, so you could - for example - record the sound of your son playing and use it as the sound file for when your wife calls from home.
Speaking of the Gallery, let me slip in a tip here as well: Manage your photos well. I had over 300+ photos in my Gallery and the time to save an image started driving me *nuts*. We're talking 10-12 seconds per picture. I was thinking it was a problem with the new OS and the phone was going to need a firmware upgrade or something, but it's not that at all. The more photos you have, the longer it takes to find the last file name, it seems, and save. Once I copied all the photos off my MMC the other day, the camera saves in about 3-4 seconds again. It still seems slower responding that my 3650, but that's *a lot* better than last week and Disneyland. I was ready to throw the phone into the waters at It's A Small World it was taking so long to save images.
Okay, that's it. There's probably other apps that I'd have on my phone if I they 1) Actually worked on the 6600 (like my ETI Camcorder or the Philips Camcorder) or if they were 2) Portable, since I don't like the idea of paying for an app twice or 3) Cheaper, I can't pay $30 an app any more, especially if I can't take it with me when I upgrade my phone to a newer version.
I hope that helps the new 6600 owners out there.
-Russ