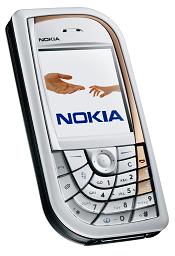 The sucky thing about being in California (and there's not much sucky about being here) is that all the Europeans (and East coasters who wake up around 5 a.m.) get the scoop on new Nokia phones first. Damn!
Like with all new Nokia phones, everyone in #mobitopia was examing the specs and reading the tea-leaves of the new launch. The phone is a small (not sure how small yet) Series 60 phone with a 1 megapixel camera and capability to take 10 minutes of video. Very neat. It's also paired up with the Lifeblog software to organize all the text and multimedia over a (I think) USB cable that comes with the phone. It's a very cool package and is aiming at the heart of mobile media, which is fantastic.
Okay. So like *all* Nokia phones, there's always a feature or two missing and questionable design decisions. God knows why they can't pack all the features an advanced user wants into one phone, but it seems there's always a flaw. This phone 1) Is missing EDGE and/or WCDMA. 2) Is focused on taking videos, but introduces a new incompatible and smaller-capacity memory format called Mini MMC. (As if MMC isn't bad enough - we want SD card support!!!) and 3) introduces another wacky keypad. Also, the Lifeblog doesn't actually come with online support (as I wrote about earlier) and the phone comes with Adobe Photoshop Album for organizing photos anyways. *Weird*. I guess I just don't get Lifeblog (who does?) since I thought it was going to be a "multimedia" competior to Adobe's product.
Christian said on his weblog that the phone is going to be available the next quarter, which astounds me as we heard about the 6620 months ago and it's still no where to be seen. We'll see if it does indeed show up in my grubby paws before July.
One of the specs that Nokia slipped into this phone is support for AAC files. This is very interesting - now we all know that AAC is just a container format, and AACs from Apple's iTunes isn't compatible with other AAC formats, however, the option is *there*. It lead Matt on mobitopia to contemplate about a nokia.itunes.com, which would be killer. Since the Lifeblog and other Nokia software doesn't run on Mac software, that'd be a stretch. More likely, Nokia would use it's influence in the market to make it's own music store - or maybe a media store with video clips as well? Regardless, the paltry memory in the 7610 wouldn't be any sort of match for the iPod mini so they probably won't bother. Like I said in my review of Ana's iPod mini, Apple has at least 9 months on any potential competitor.
This launch is pretty impressive though. Once again Nokia shows why it leads the industry not only in market share, but also in its vision about the future. This presentation spells out clearly its view of the convergence in Communications, Media, Information Technology and Consumer Electronics. If you have a minute, definitely grab that presentation and go through it. It's got tons of great info - like the fact that smart phone users taper off to about 10 photos a week. Interesting! I'll have to see if I can find a copy of the 2004 Smart Phone Usage Study from Nokia.
The PDF also outlines why even though the N-Gage may be a failure from a sales point of view, the people who did buy an N-Gage have a massive ARPU. Very interesting - it shows that Nokia isn't going to give up on the category. There's an N-Gage 2 in the works already and Nokia realizes that even though the gaming market is a hard nut to crack, if they can find the sweet spot, the carriers are going to love them for it. In the presentaiton Nokia says, for example, that on average about 2-5% of consumers buy Java games, but 50% of N-Gage users buy them. Wow. If you're a carrier, those are the sorts of numbers that make you re-think.
Finally, this phone is very interesting in that Nokia is continuing its push of the Series 60 phones in consumer-based models. Unlike the other manufacturers in the market which have segmented smart phones, Nokia realizes that the consumer demand for features and the increasing complexity of the converged devices is going to demand that smart phones be at the core of the strategy. So they continue to push Series 60 into more and more consumer-oriented devices which is just fantastic.
Look for a tipping point around December of this year where the hottest handsets are smart phones. This happened last year with MMS phones, remember? Suddenly consumers could care less about devices that had a b&w screen unless they was free.
-Russ